Meet the Bloggers
Looking to know a little more about the team behind this blog? Look no further.
Amanda- Editor/Founder of Unbreakable Journey
 Amanda is a twenty-something girl who happens to have Ostegenesis Imperfecta (OI). She resides in Richmond, Virginia with her husband Jerad and dog Clark. Amanda was diagnosed with Type 1 OI at the age of two. While she has suffered numerous fractures during her lifetime, OI has never held her back from living a fulfilling and full life. Amanda had long wanted to become more involved with the OI Community, in 2010 she took the plunge and launched Unbreakable Journey.  
Amanda earned a Bachelors of Science in Human Resources Management/Industrial Relations from Virginia Commonwealth University, and a Masters of Business Administration from Liberty University. Amanda is currently perusing her Educational Specialist degree at Liberty University. Amanda is a working professional at a local community college overseeing student activities/special events and instructing student development/orientation courses.
  Questions? Concerns? Ideas? Email me at amanda@unbreakablejourney.com. Follow Amanda on twitter, oijourney.
---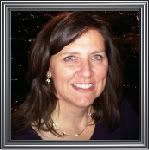 Meg- Contributor, Tuesday's Child
Mom to a grown son, a teenage daughter with osteogenesis imperfecta, and a teenage stepson. Married to a devoted husband. Doing the best I can with the tools I've been given.
---
Sandy- Contributor, Fracture Free Friday
Sandy is a twenty-something who is the middle child of two brothers. She is the only one in her family with O.I. and was born in Boston, MA and diagnosed at birth with O.I. type III. Sandy is a college graduate with a Bachelors degree in Global Studies and is a self-professed dork who has always enjoyed learning. Her interests range from international human rights to higher education access for young people and education reform issues. She enjoys volunteering opportunities and is an AmeriCorps alumn where she worked with young adults in the mentoring field. Sandy's pastimes include reading, dreaming about ruling the world, writing, swimming, and general goofing around with her friends. Over the course of her life Sandy has had hundreds of fractures (including those in utero), and has one rod in each tibia. Sandy primarily relies on racing around in her power wheelchair while smiling sweetly at crushed toes that get in her way.
When she is not busy scheming something ridiculous Sandy can be found blogging away at perfectlyimperfecta.blogspot.com She has a facebook page for the blog at facebook.com/oi.perfect and can also be tweeted at oiperfect.
Copyright secured by Digiprove © 2011